I was really surprised how quickly I got a functional team chat and video conferencing server set up with Matrix Synapse. I put it on a VM on my desktop iMac and routed the domain, meetingvite.com to the VM's IP address with DNS and NAT. It was shockingly simple.
I'm a Wordpress developer, but during the covid lockdown I've been challenging myself to branch out. I've always thought that it would be great if the general public stopped thinking that services like this have to come from a giant, profit driven dotcom startup. If we could mature these technologies enough to call a FreedomBox device a "Personal Security Appliance" that has very little configuration and a tangible benefit that doesn't require a CS degree to understand, we might be able to flip the power dynamic away from consumer-as-product.
But I'm not 100% sure if I'm thinking about this in the right way. What should I read to get a more realistic picture of what's possible with this? Am I on the right track? I've set up WordPress and right now I'm looking for a way to automatically add WP users to Synapse and send them instructions about how to access via web, mobile, or desktop client.
My company, ClipperVacations.com was hit hard by covid and then the expense of Slack extras and all the GoToMeeting and Zoom accounts, was an unexpected budgetary strain. I'd love to see small companies like mine take control of these new remote working necessities without draining the bank.
What are you doing with your FBX and what are your goals?
Actual results
I'm amazed. Better than I was even hoping for.
Screenshot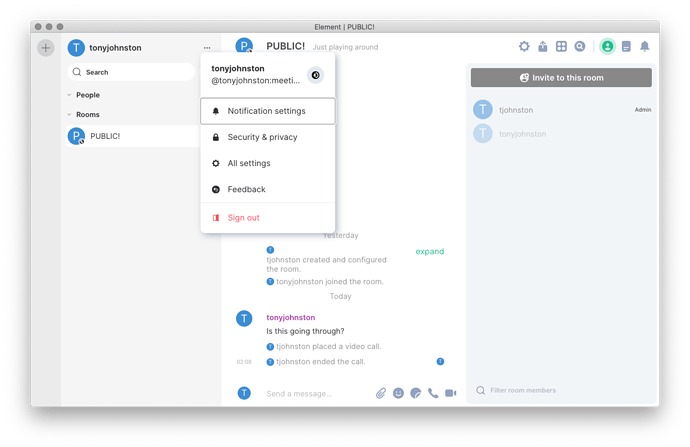 Information
FreedomBox version: You are running Debian GNU/Linux bullseye/sid and FreedomBox version 20.12.1. FreedomBox is up to date.
Hardware: VirtualBox with minimum specs running on macOS Catalina on a 2019 27" iMac.
How did you install FreedomBox?: Downloaded the Vbox disk image and followed instructions. Started with Docker containers to get Matrix Synapse running, but kept running into dead ends when trying to configure it. Got it working and was able to connect with Riot/Element and several teammates, but it became less stable with every tweak I made. After moving to the VBox image, it was way more straightforward. I haven't worked much with Docker, but I suspect that's the more awesome way of running this so that's what I'm going to work on next. I went and registered several cheap domains so that I can have multiple servers running at once while I learn and evaluate.