Problem Description
I have apt update and upgraded, this is what happened after. I tried my browser on my PC and phone, I tried to use the url's web interfaces to try to connect to Plinth, Transmission, and Syncthing. The page says "It took too long to respond". Also, the Samba share is no longer available on my network.
Steps to Reproduce
Sudo apt update, sudo apt upgrade (In a remote client PUTTY)
Open browser on machine connected to wired local network
Go to my bookmarked FreedomBox's local IP address
Wait until the "The page took too long to respond" appears
Other devices show "ERR_ADRESS_UNREACHABLE"
Expected Results
Plinth web interface functions normally.
Actual results
SSH using a remote client PUTTY times out
Transmission web interface times out
Samba share is no longer available on network
Plinth web interface times out
however the SYNCTHING service still works fine and is connected to my machine
The ip address is the same in the FreedomBox terminal splash screen and on my network monitoring tool "Fing" on my phone.
Information
This device is a Raspberry Pi 4 that I have set up using this method
and has functioned properly for a little more than a year.
When SSH failed, I plugged my monitor and keyboard into my pi for the first time. Everything seems to start up just fine and when I log into my FreedomBox account, the ASCII butterfly shows up just fine with three addresses I can use to reach the interface using a browser. I first checked to see if the Pi was offline so I ran sudo apt update to see if it could connect to servers. It did and found a MB or so of new packages that I then upgraded. I also installed a SMART disk tester so the unit is online. I updated the kernel too. After rebooting multiple times using sudo reboot, the interface would not show up.
While I am writing this support forum, the pi was idle for a few minuets and a whole wall of errors with something about sda syncthing or something. I wish I was smart enough to capture but I panic rebooted. I cannot tell if it is a drive failure because I can navigate to the drive and read one of my syncthing files "cat example.txt" just fine.
How is a samba share and the entire interface offline but Syncthing is fine?
Also, My college Wangblows 10 computer freezes for 30 seconds every time explorer.exe has a foreground window

because it checks the Q: drive (the samba share) every time to see if it can connect. Attached is the windows error message, its odd for sure.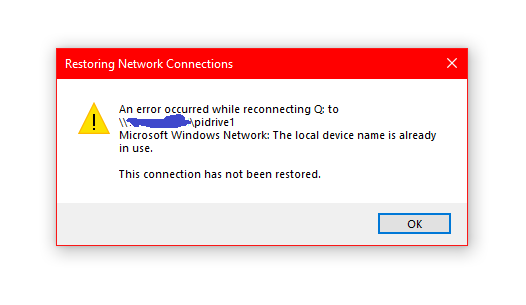 What should I try to do?