Problem Description
When I attempt to obtain a certificate using Let's Encrypt, I get a Failed to obtain certificate for domain johnclint.net message.
Steps to Reproduce
Login to FreedomBox.
Go to Let's Encrypt page.
Select Obtain button.
Expected Results
I expected a valid certificate to be generated.
Actual results
I receive this error message:
Failed to obtain certificate for domain johnclint.net: Saving debug log to /var/log/letsencrypt/letsencrypt.log Plugins selected: Authenticator webroot, Installer None An unexpected error occurred: requests.exceptions.ConnectionError: HTTPSConnectionPool(host='acme-v02.api.letsencrypt.org', port=443): Max retries exceeded with url: /directory (Caused by NewConnectionError('<urllib3.connection.HTTPSConnection object at 0xb3909508>: Failed to establish a new connection: [Errno -2] Name or service not known')) Please see the logfiles in /var/log/letsencrypt for more details.
Screenshot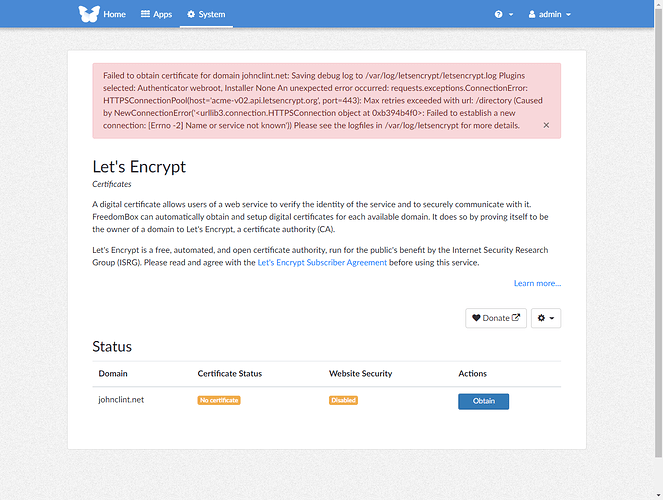 Information
FreedomBox version: 22.9
Hardware: Pioneer
How did you install FreedomBox?: From mini-SD card provided by Olimex.
Ports TCP 80 and 443 on my router are configured to forward to my FreedomBox. A static DNS for my FreedomBox is assigned on my router. My domain name is configured on my FreedomBox.