Did you talk about defaults for the new sharing feature already?
Looking at the current GUI mock-up, it seems it could still be much easier for all of the intended audience to have shares and groups readily configurable, allowing all freedombox users to easily collaborate on files by default. (Edit: See simpler settings mock-up in this post.)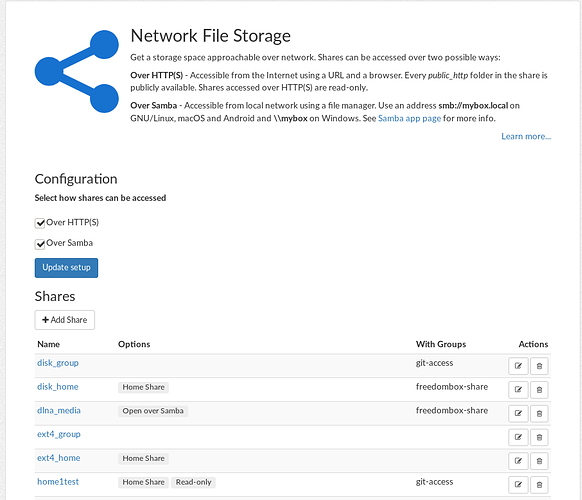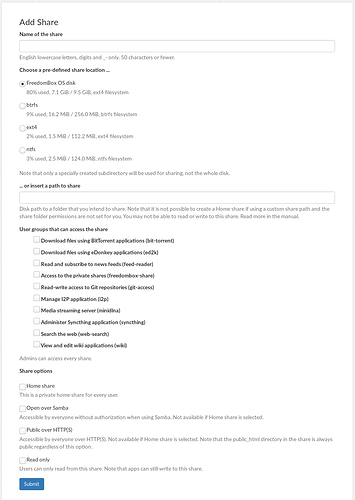 So it may be good to have some sane safe defaults, that allow the users to collaborate out of the box, without requiring to set up all the above and custom groups.
And this is related to why my perspective is so positive for group owned directories, with a (finally also automatic) compliant umask 002 for the users with a user-private-group in debian (https://salsa.debian.org/freedombox-team/freedombox/-/issues/1796).
What I have in mind is a default something like this:
Provide user authenticated shares over samba, when this can be considered save (maybe only for local nets?)
Make the /home directory browsable
Let /home also contain the user data of the defined groups, as for the default /home/group/users, /home/group/admins etc.
Let the users and group directories contain set-group-id sub-directories that implement inherent collaboration features (thanks to the user's primary UPG and a 0002 umask).
( Example along the lines, but slightly improved from the Debian Wiki: )
/home/<user-name>/incoming
/home/<user-name>/private
/home/<user-name>/public_html
[error: /home/<user-name>/public_write (not needed, use groupdir "users" instead) ]

/home/group/<group-name>
/home/group/<group-name>/private
/home/group/<group-name>/incoming


This would allow the collaboration features to be discoverable and usable simply by browsing the filesystem, and without needing any setup by the user beyond opening the Freedombox network share. (And the network itself is usually also browseable with most operating systems.)