Hello, I am somewhat new to Linux and networking, learning quickly but in just a day of tinkering with my new box I am afraid I somehow messed up the web URL. Instead of taking me to the FreedomBox page it takes me to the Apache2 Debian default page.
Steps to Reproduce
Enter FreedomBox IP address, or freedombox.local at URL bar.
Expected Results
FreedomBox UI
Actual results
Apache2 Debian default page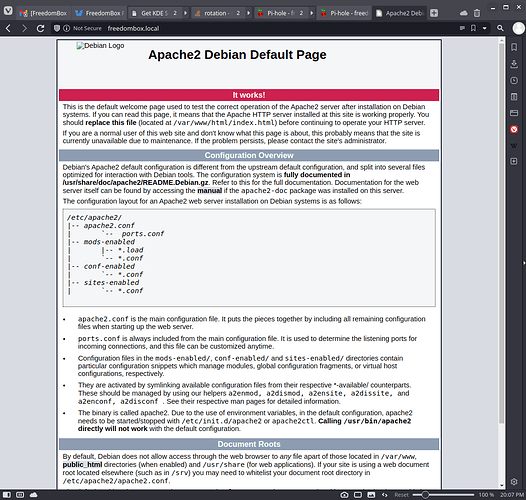 This is the pre-installed hardware version of Freedombox. When I first set it up, the web page loaded up just fine.
So far the only thing I have done with the box is SSH into it and install Pi-hole (which required apt upgrade first), so I have to guess something about how I did that caused this issue.
I do see files that appear to be related to the FreedomBox site in /usr/share/freedombox/manual/en, but the IP address pulls from /var/www/html/index.html.
I did look through the /etc/apache2/apache2.conf file, but I am afraid it may as well be in Greek, I'm just in way over my head.
I apologize for this question not being more informative, please let me know what additional clarifying information I can pass along.