Problem Description
The Stable and Testing Freedombox images are not booting on my Raspberry Pi 3 B plus. It appears that it is not finding a dtb file, and gives an error message. It appears to attempt a default TFTP boot after that, which fails as well. I am including a picture of the screen during boot, as I do not have a serial adapter to log the boot process in the serial console.
Steps to Reproduce
Download Stable or Testing Image file.
Restore image with gnome-disks onto empty (known good) SD card(s). The 2 cards I used were Sandisk Ultra 64 GB capacity, and the other a Samsung Evo Select 256 GB capacity. Both are high speed (10) rated.
Power on the Raspberry Pi 3 B plus.
Repeat.
Expected Results
I expect it to boot into a fresh install, and for it to begin resizing the system partition to fit into the remaining free space on the SD card.
Actual results
Error message on attempted boot and then defaults to TFTP boot which fails as well, then goes to a U-Boot prompt.
Screenshot
Here is the image: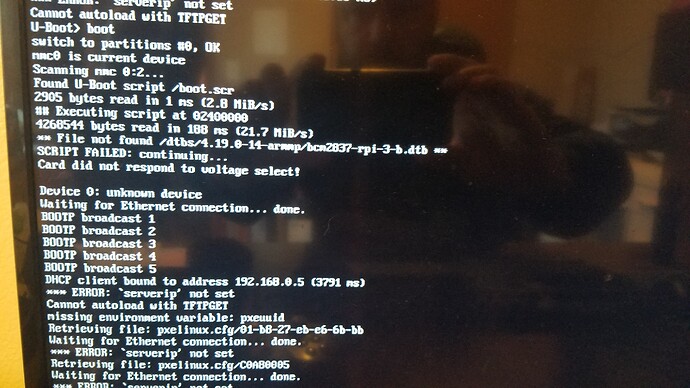 Information
FreedomBox version: Stable and Testing Images, FB Versions 19.1, and 21.1 respectively.
Hardware: Raspberry PI 3 B plus
How did you install FreedomBox?: Downloading both Stable & testing images from https://freedombox.org'.