Hi folks,
My Let's Encrypt certificate has worked just fine since I first deployed the box almost a year ago, but suddenly I am getting a privacy error when trying to connect from external networks. This error is consistent across multiple networks and browsers.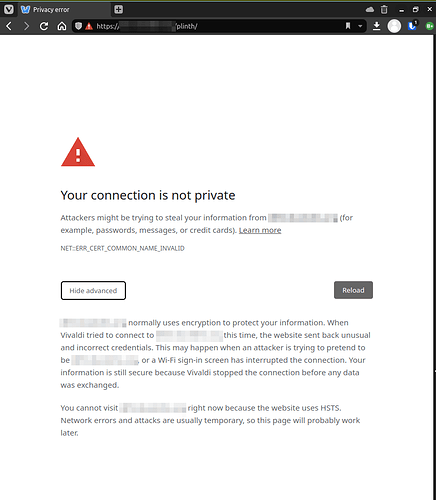 On my home network the page deploys fine and boasts a valid certificate, and when I open the Let's Encrypt app it says the cert is valid, but if I click "Re-obtain" it throws an error saying it failed a challenge.
I took a peek in the log it mentioned at /var/log/letsencrypt/letsencrypt.log but didn't notice any giveaway clues–a few lines confirming a challenge failed and suggesting I re-check the domain name for accuracy, but the domain referenced is accurate. The IP it lists is also correct.
I checked on the site that hosts my domain (duckdns.org) and everything looks good. I have a second website hosted on a different device, also an Nginx/Let's Encrypt setup with a duckdns.org domain, and that website is working fine.
Does anyone have experience troubleshooting these certificate errors?
Information
Debian 11 - Bullseye
FreedomBox 22.13
Configuration
Behind a router in the DMZ
Hardware
Olimex A20-OLinuXino-LIME2 board