On ActivityPub, there used to be Screenshot Saturday's.
Well, it's not the same but here's my FBX screenshot for the community!
Feel free to add your own.
I'm a proud Freedombox user for just over a year now : )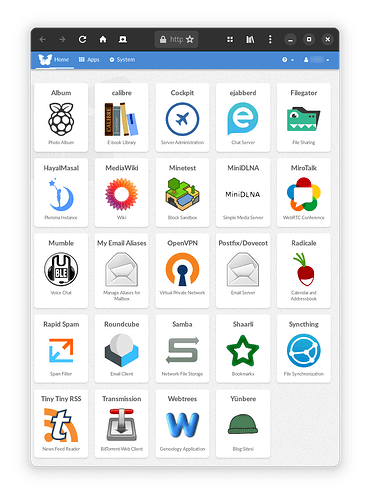 Apps installed
In order shown in image
PiGallery2 (external app)
Calibre
Cockpit
ejabberd
Filegator (external app)
Pleroma (external app)
MediaWiki
Minetest
MiniDLNA
Mirotalk (external app)
Mumble
Email Suite
OpenVPN
Radicale
Roundcube
Samba
Shaarli
Syncthing
Tiny Tiny RSS
Transmission
Webtrees (external app)
Blog (external app)
If you're interested in adding external apps to Plinth, check out the Wiki!
Hardware: Raspberry Pi4B - 8GB
FBX Version: 23.20 / Stable