Summary
Invalid SSL certificate for my vhost
Problem
I bought a year of PageKite and a domain name from namecheap.
I sucessfully configured PageKite and added CNAME entries in my registrar.
https is now working for my website "www.shorehub.us" and I can browse
to www.shorehub.us/plinth from the internet with a secure connection and the dislayed certificate in my browser is correct for "www.shorehub.us".
It gets a 'B' rating from SSL Server Test: www.shorehub.us (Powered by Qualys SSL Labs)
With that working, I now added some CNAME entries for subdomains "zot", "hub", etc on my registrar and would like to have a couple subdomain vhosts such as zot.shorehub.us in addition to the www.shorehub.us.
However, I've not been able to generate a correct/working LetsEncrypt SSL cert.
Don't know whether its a freedombox problem or a PageKite.net problem.
This web tutorial shows that it's possible to run multiple subdomain vhosts with SSL through a pagekite.
I wanted to reserve the www.shorehub.us vhost for freedombox apps like /plinth or /calibre etc. Am trying to install hubzilla which needs to be installed in top domain or subdomain with no subpaths.
Ran standard certbot command to generate certificate for subdomain zot.shorehub.us
with apache path at /var/ww/hubzilla
Blockquote
certbot --apache --expand -w /var/www/hubzilla -d zot.shorehub.us -m myemail@mydomain --agree-tos --non-interactive --redirect --hsts --uir
Browsing to "zot.shorehub.us" shows invalid certificate issued to "freedombox:
Common Name (CN) freedombox
Organization (O)
Organizational Unit (OU)
Issued By
Common Name (CN) freedombox
Organization (O)
Organizational Unit (OU)
Validity Period
Issued On Thursday, January 21, 2021 at 2:15:29 PM
Expires On Sunday, January 19, 2031 at 2:15:29 PM
Fingerprints
SHA-256 Fingerprint
7E 46 E8 D4 C6 5B A6 82 91 1B A2 25 43 3F E7 DB AD A9 8D DF E7 BE FD 84 B8 B0 72 11 A8 CB 89 FD
SHA-1 Fingerprint
9D 1C 7A FC 7F 5A 68 91 BD C1 A7 15 AF C1 AF B4 2A 2C 26 59
SSLlabs reports first chain of certificate belongs to pagekite.net
and next belongs to freedombox *mismatch
https://www.ssllabs.com/ssltest/analyze.html?d=zot.shorehub.us
Solution
Screenshots/Layouts
Namecheap CNAME configurations for subdomains


PageKite.net kites:


FreedomBox LetsEncrypt certs: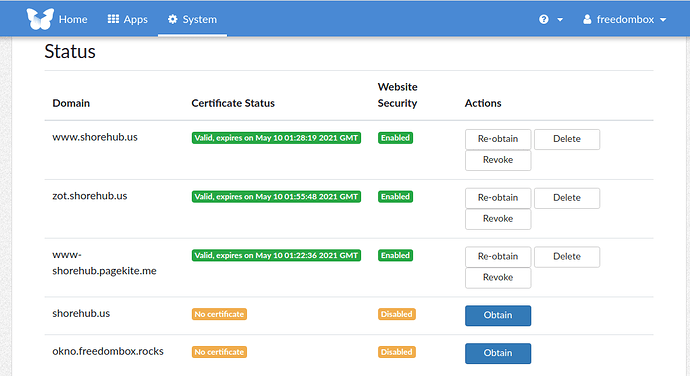 Blockquote
cat /etc/pagekite.d/80_http.rc
service_on = http:@kitename:localhost:80:@kitesecret
service_on = http:www.shorehub.us:localhost:80:@kitesecret
service_on = http:zot.shorehub.us:localhost:80:@kitesecret
Blockquote
cat /etc/pagekite.d/443_https.rc
service_on = https:@kitename:localhost:443:@kitesecret
service_on = https:www.shorehub.us:localhost:443:@kitesecret
service_on = https:zot.shorehub.us:localhost:443:@kitesecret
Alternatives
(Description of any alternatives and why they were not chosen.)
Tasks
(A breakdown of tasks involved in implementing the solutions if available at the time of proposal.)