Problem Description
plinth/apps/i2p Installation: i2p page says, "This application is not available in your distribution."
Are we missing i2p-router package in bookworm? If so, is there a workaround to this while still having the application controlled by FreedomBox (maybe an out-of-process install of i2p-router)?
Instructions for this are at geti2p.net
Steps to Reproduce
Start with frequent-feature update/advanced apps and features enabled Bookworm FreedomBox having i2p installed via plinth (since buster)
do sudo apt install -t bookworm-backports freedombox to correct automatic updates to freedombox
do rerun setup on i2p from plinth
do Uninstall on i2p from plinth
intending to install i2p anew I now see the, "This application is not currently available in your distribution." message. Surprise!
Expected Results
I expected the application to be available for installation after uninstalling the application. Sadly, it is not.
Actual results
The plinth/apps/i2p page tells me:
This application is currently not available in your distribution.
Screenshot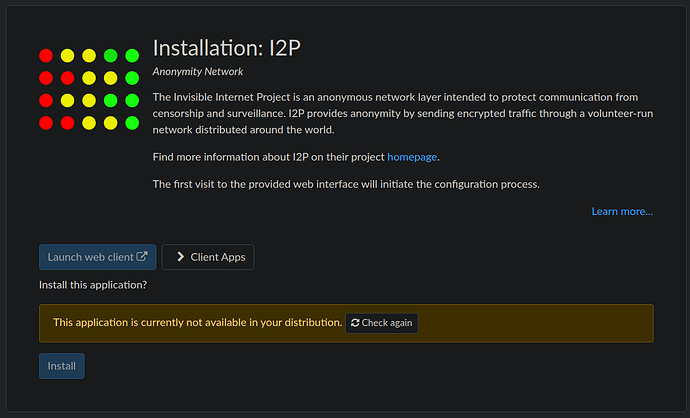 Information
FreedomBox version: You are running Debian GNU/Linux 12 (bookworm) and FreedomBox version 23.16. FreedomBox is up to date.
Hardware: intel Atom PC uname -a: Linux fbhostname 6.1.0-11-amd64

#1

SMP PREEMPT_DYNAMIC Debian 6.1.38-4 (2023-08-08) x86_64 GNU/Linux
How did you install FreedomBox?:
DEBIAN_FRONTEND=noninteractive apt install freedombox -y

unattended upgrade to bullseye
Additional Troubleshooting
The installation issue for i2pd does not appear to be an unresolved dependency. i2p-router package doesn't seem to be in bookworm, however.
apt search i2p-router gives:
Sorting… Done
Full Text Search… Done
apt search i2p gives:
i2pd/stable 2.45.1-1 amd64
Full-featured C++ implementation of I2P client
aptitude shows dependency issues with i2pd installation. Bookworm distribution packages for libboost-filesystem, libboost-program-options, and libminiupnpc all appear to satisfy the install dependencies for i2pd.