Problem Description
I want to add "MyTinyToDo" (https://www.mytinytodo.net/) to my freedombox. I assumed I simply needed to download the package, unzip it, give it the same permissions as my "ikiwiki" blog and put it in the same location as my ikiwiki folder, and I would be able to view it publicly.
It appears I'm missing something - Where do I set the public permissions for a folder? I read I should do it in "documentRoot", but I don't know where that is.
Steps to Reproduce
download a zip file of "mytinytodo"
copy it to the www folder.
set permissions same as "already working" ikiwiki folder
Open browser, navigate to folder, but get "404 not found" instead of folder tree.
Expected Results
I expected to see folder tree in the browser window.
Actual results
I get a 404 error
Screenshot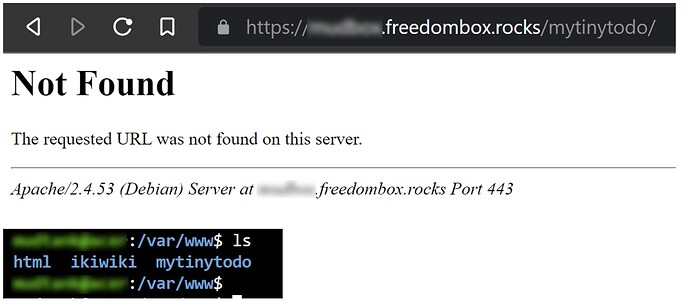 Information
FreedomBox version: 22.11

Acer Atom AMD64 (a laptop)

How did you install FreedomBox?: 'apt install freedombox'
Appreciate any pointers; yes, I know this isn't a standard app, but I assume making a folder public would apply "in general", but will probably be unique to a freedombox. thanks in advance!