I formatted an external SSD—using Mac's Disk Utility, Windows' diskpart (in terminal), and GNOME's GParted—from APFS to exFAT to NTFS to EXT4. It was once a Macbook's internal storage.
I had some trouble getting it recognized by the Freedombox, hence all the reformatting. I was hoping to just have it as exFAT because it works across all OSes, so adding and removing files would be easy.
Sometimes, when it was recognized (appearing in System > Storage), I couldn't add it as a Backup location or use it with Samba. I read something on this site that implied exFAT and NTFS drives couldn't be used for sharing, so I formatted it to EXT4.
After the last few rounds of reformatting, it wouldn't appear in Plinth at all. I can see it in Cockpit, but it says it has no capacity, and the serial number is wonky.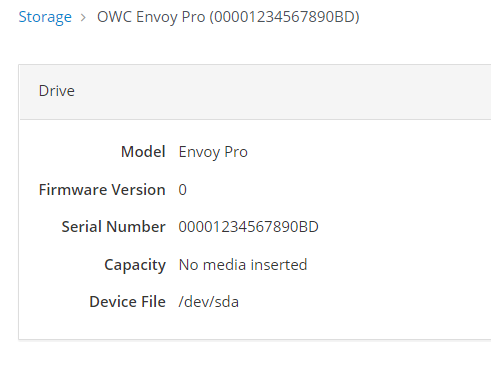 Trying lsblk -a yields:
xxx@freedombox:~$ lsblk -a
NAME MAJ:MIN RM SIZE RO TYPE MOUNTPOINT
sda 8:0 0 0 disk
mmcblk0 179:0 0 29.7G 0 disk
├─mmcblk0p1 179:1 0 128M 0 part /boot
└─mmcblk0p2 179:2 0 29.6G 0 part /
I'm not sure what's going on, because the drive mounts without issues in Manjaro GNOME.
---
FreedomBox is plugged into a router at home
Pretty sure I bought it sometime last year.
I'm running Debian GNU/Linux 10 (buster) and FreedomBox version 20.12.1. FreedomBox is up to date.