Problem Description
I am trying to connect via Samba to my FreedomBox, but get a no route to host message under Ubuntu 22.04 with the MATE desktop and Caja as the file manager. The funny thing is that I can ssh to the box just fine, and I can access Plinth via Firefox just fine too.
I tried to type smb://freedombox.local or the local IP address to no avail. I used Samba just fine a while ago (before the update to Debian 12 Bookworm). What am I doing wrong?
Steps to Reproduce
Enable Samba in the application list.
Launch Caja or another the file manager.
Double click on the Freedombox icon.
Enjoy the error message.
Expected Results
I would expect to be able to browse the Open_Share on the hard disk, then copy a file I downloaded with a P2P application on the Freedombox to my PC.
Actual results
I get an error with the following message:
Unable to mount location
Failed to retrieve share list from server: No route to host
Screenshot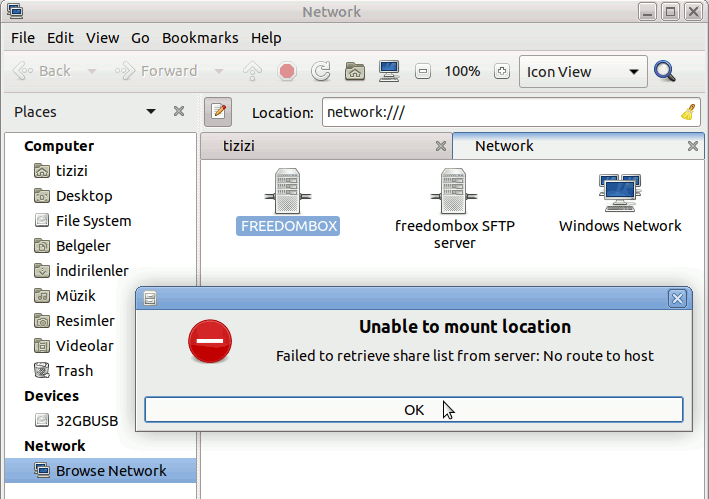 Information
FreedomBox version: 23.6.2
Hardware: Olimex A20-OLinuXino-LIME2 with a hard disk
How did you install FreedomBox?: frankly, I don't even remember. I have an image that I copied with dd to my computer, when the microSD card dies, I copy it again with dd to a new microSD card.